Awards
WE ARE KNOWN FOR OUR AWARD WINNING INGROUND POOLS!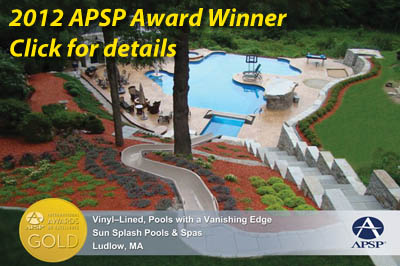 APSP, the Association of Pool and Spa Proffesionals, Region 9 New England Chapter represents members in Maine, New Hampshire, Vermont, Massachusetts and Rhode Island. There are nearly 175 members in the region! Check out the awards below to see how we stack up, and you'll know that our reputation for quality is well deserved!
NEW!!! Sun Splash Pools receives the coveted 2012 APSP Award of Excellence! Click here to view the full text.
Click here for previous a Award Announcement (PDF format) from the APSP, presented to Sun Splash Pools at their awards luncheon on March 23, 2010.
Click any image to enlarge.
| | | | |
| --- | --- | --- | --- |
| - APSP Region 9 Design Award 2010 - | - APSP Region 9 Design Award 2010 - | - APSP Region 9 Design Award 2010 - | - APSP Region 9 Design Award 2009 - |
| - APSP Region 9 Design Award 2009 - | - APSP Region 9 Design Award 2007 - | - APSP Region 9 Design Award 2007 - | - APSP Region 9 Design Award 2006 - |
| - APSP Region 9 Design Award 2006 - | - APSP Region 9 Design Award 2006 - | - APSP Region 9 Design Award 2005 - | - APSP Region 9 Design Award 2005 - |